BENEFITS FOR DISABLED, CARERS & COMPANIONS
We update Disability Benefits on a Daily basis via our FACEBOOK PAGE HERE



AIRPORTS & FLIGHTS
If you think you need special assistance, you can declare your disability to the airline.
Crucially, you need to contact your airline in advance to tell it about your requirements. This should be done as early as possible, and no later than 48 hours before you travel.
The aviation regulator the Civil Aviation Authority says help is available from the moment you arrive at an airport and can cover:
Your journey through your departure airport.

Boarding the aircraft and during the flight.

Disembarking the aircraft.

Transferring between flights.

Travelling through your destination airport.



British Rail
Get 1/3 off rail travel for yourself and any person accompanying you with a Disabled Person's Railcard 
National Express
Reduced price fares are available for disabled travellers, and there is a helpline to plan your journey.
National Express Assisted Travel Team can be contacted as follows:
Via the customer service centre Tel: 0371 781 81 81  lines are open 7 days a week, 8am - 10pm.
Via email: addl@nationalexpress.com
By post:
The Assisted Travel Team
National Express
National Express House
Mill Lane
Digbeth
Birmingham
B5 6DD

Get a free 'offer me a seat' badge for public transport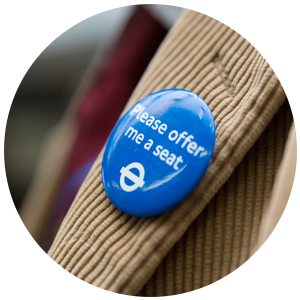 The transport providers below all offer free 'priority seat' badges or cards – Scope also has a helpful page of tips on how to ask for a seat when you need it.




Free admission for carers at football matches
Some clubs offer this to fans with disabilities and their carers.
Check with your local club to see if this is something they offer


Discounted theatre tickets and free tickets for carers
Lots of theatres offer discounted tickets for disabled people. Some also reserve seats for wheelchair users and allow carers in for free.
Check with the theatre when you're booking tickets to find out what they offer.


Music & Performance Venues
Music & Performance venues run by local councils offer discounts for disabled customers, free carers tickets and accessible seating for many of their events.  Check your local venues for details.


Free cinema tickets for friends and carers
You can apply for a card from the Cinema Exhibitors' Association (CEA) that gives one free ticket for anyone accompanying you to the cinema.



Free admission at National Trust and English Heritage properties for Carers
Both the National Trust and English Heritage give free entry to companions or carers of disabled visitors. The disabled visitor pays the normal admission fee or membership. To save having to ask for free entry at a National Trust property, you can apply for an 'Access for All Admit One Card' in advance.
Concessions at Public Libraries
Some libraries offer the following services at a reduced rate or free of charge to disabled people:
Overdue books

Computer access

Audio and visual material.
This varies from one local authority to another.


IF IN DOUBT...... ASK



All sorts of places – from the amusement park to the zoo and everywhere in between – offer concessions, but don't always advertise them.
It's worth asking – you've got nothing to lose.


Some Tips from the MONEY ADVICE SERVICE
Motability, Blue Badge Scheme and discounted travel
Whether you prefer to travel by car or use public transport, as a disabled person you might qualify for a range of schemes designed to help with leasing a vehicle, parking, or offering free or discounted travel on trains, buses and coaches.
Motability Scheme
The Motability Scheme enables disabled people to lease a new car, mobility scooter or powered wheelchair.
You might be eligible to join the Motability Scheme if you get certain disability benefits.
Blue Badge Scheme
The Blue Badge Scheme provides a range of parking benefits for disabled people who have difficulty walking.
For example, you can park for free in pay-and-display bays and also on double and single yellow lines.
Car tax exemption
If you're getting certain disability benefits you are exempt from paying Vehicle Excise Duty (car tax, or road tax).
If you're on the Motability Scheme you don't need to do anything.
If you own your car you have to apply for the exemption.
Buses
Free bus passes
Depending on where in the UK you live, you might be entitled to free or discounted bus travel.
Find out more about bus passes and other travel concessions where you live by following the links below:
Trains
Disabled Persons Railcard
The Disabled Persons Railcard gives you a third off most rail fares.
The discount is for two people – so you can save money for a friend or a carer too.
You have to buy the railcard but it can pay for itself after just one journey.
There's lots of assistance available when travelling by train – including help getting on and off the train and help with luggage – all free of charge.
Coaches
There is no national concessions scheme for coach travel.
However, discounted travel is available depending on which coach company you're using.
National Express
National Express sells a Disabled Coach Card that gives a third off their standard fares.
City Link (Scotland)
You can get free travel if you use your National Entitlement Card on City Link coaches.
Goldline (Northern Ireland)
You can get half-price travel if you use your SmartPass on Goldline coaches.
Community transport
Community transport (which is sometimes called 'Dial a ride' or 'Ring and ride') are usually run by local authorities and can be a good alternative to taxis or public transport.
Travelling in London
Disabled Persons Freedom Pass
A Disabled Persons Freedom Pass will give you:
Free 24-hour travel across Transport for London's networks (except for some riverboats which are half price)

Free train travel on the London Overground network (however, you might not be able to travel before 9.30 am)
London Taxicard Scheme
The London Taxicard Scheme gives subsidised taxis for disabled people who find using public transport difficult.